Introduction
Strength & Courage #1
Joshua 1:1–9 (ESV)
After the death of Moses the servant of the Lord, the Lord said to Joshua the son of Nun, Moses' assistant, "Moses my servant is dead. Now therefore arise, go over this Jordan, you and all this people, into the land that I am giving to them, to the people of Israel. Every place that the sole of your foot will tread upon I have given to you, just as I promised to Moses. From the wilderness and this Lebanon as far as the great river, the river Euphrates, all the land of the Hittites to the Great Sea toward the going down of the sun shall be your territory. No man shall be able to stand before you all the days of your life. Just as I was with Moses, so I will be with you. I will not leave you or forsake you. Be strong and courageous, for you shall cause this people to inherit the land that I swore to their fathers to give them. Only be strong and very courageous, being careful to do according to all the law that Moses my servant commanded you. Do not turn from it to the right hand or to the left, that you may have good success wherever you go. This Book of the Law shall not depart from your mouth, but you shall meditate on it day and night, so that you may be careful to do according to all that is written in it. For then you will make your way prosperous, and then you will have good success. Have I not commanded you? Be strong and courageous. Do not be frightened, and do not be dismayed, for the Lord your God is with you wherever you go."
Today as we begin this new series called Strength and Courage - I would like you to think about what courage and strength are.
In fact, I would like you to think about a recipe for courage and strength. I mean if you had to describe courage and strength to someone who said they had none - what do you tell them?
It is difficult to think of something that is more universally desired than strength and courage. There may be a few things:
Love, Security, maybe wealth or comfort. But no matter where exactly you rank these things - Strength and Courage are high on everyone's list of desires.
I have never even one time heard of someone who said - you know what I want - I want to be weak and afraid. Never. I have met people who are weak and afraid but I have never met anyone who wants to be weak and afraid.
Then there are the deniers - right? Those people who claim they are not afraid of anything… Or those who can never admit they have ANY weaknesses.
The truth is everyone - EVERYONE has fears and EVERYONE has Weaknesses. Everyone. And there is always someone who is stronger or appears more courageous…. This is just the truth, a reality whether we like it or not.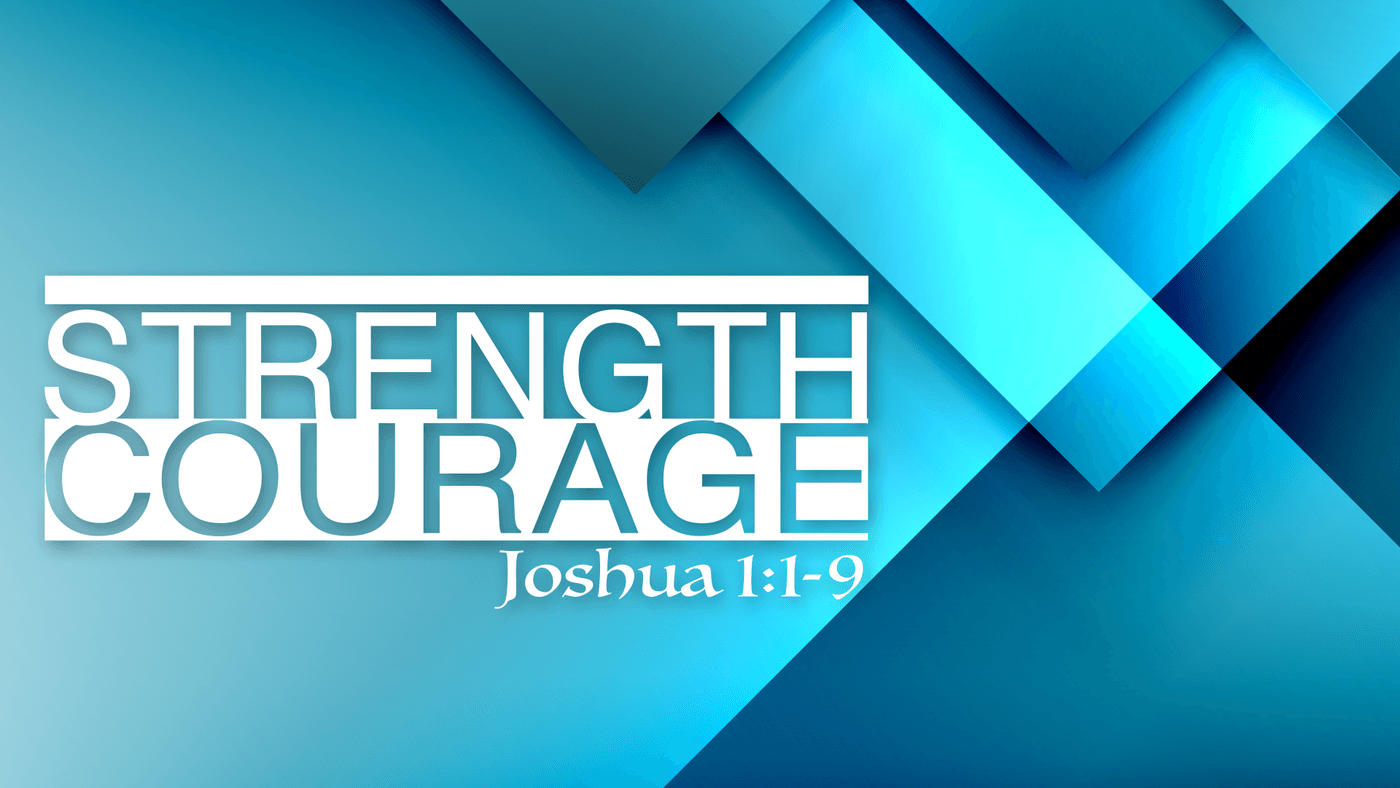 Question?
OK let me ask you a question, how many of you have heard at least a portion of this passage or one like before? How many have heard this command in the Bible to be Strong and Courageous? Most of us… What do you do with that?
I don't know about you but I often look at the is command and think well, I wish I was. I wish I was strong - or - I wish I was courageous…
I mean we tend to look at these things as a reflection of what we currently are - not as something we could be.
I think we all understand that if we lift more weights or do more push-ups we can get physically stronger. But that is not the only kind of strength that we are talking about. We are talking about mental and emotional strength as well.
So how do we obey the command to be strong and courageous when we are really weak and afraid?
Do you fake it? How do you fake strength?
So, where do these things come from? What is the recipe for Biblical strength and courage?
Apples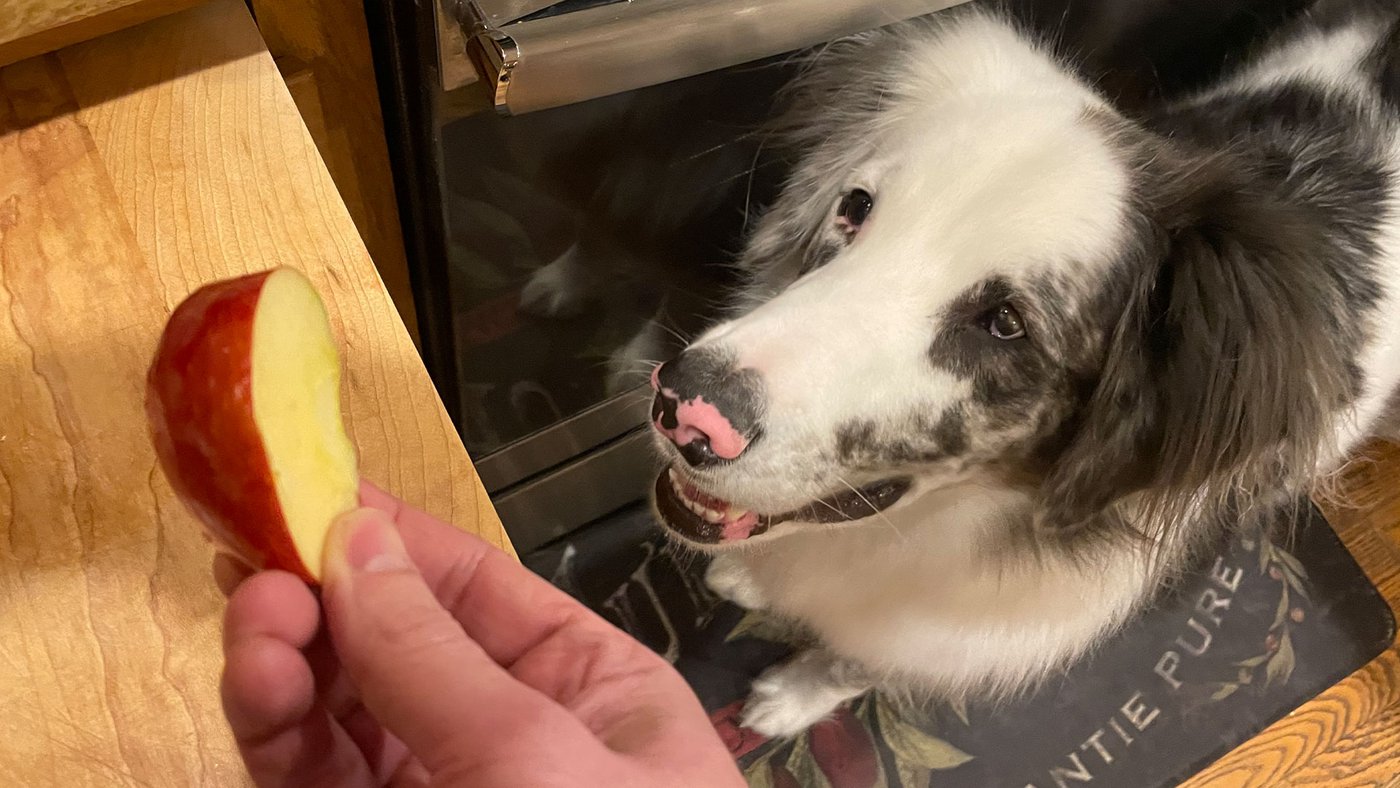 I love apples. In fact this is fake apple - because I didn't want to waste an apple on this message.
But I love apples - I eat about 1 apple a day.
This is one of my best buddies. This is Dwight. You're never going to guess this but Dwight love apples too. It is fascinating because I am pretty sure I could not recognize the sound of an APPLE being cut on a cutting board - but all I have to do is make that first cut - and Dwight will come running with hopes of sharing the apple. He is a good sharer of people food.
So if ever the community ran out of apples - Dwight and I would be very sad. So what could we do? I mean if there were literally no more apples - what hope could there be for apples in the future?
What are things we would have to have - in order to make apples for the future? I can think of two things…
I need a seed
I mean I may not have any apples but if I have an apple seed - there is hope. Right. I mean the potential is there for an apple in the future.
But a seed alone will not give me any apples. Right? If I don't have something else - there are no apples coming… What is the other thing I need?
Soil
What is interesting is that someone might argue that an apple seed is an apple. Maybe on the molecular level or in the DNA it is. So maybe there is apple in the seed but there is not in the soil. The soil is completely apple-less and yet without the soil I am not going any apples.
The soil seems so useless and appleless and dirty most of us do not consider the how important soil is to our future apple eating. No soil = no apples.
What we are vs. what we could be...
You see we tend to look at this command to be strong and courageous as a reflection what we already are vs. what we are capable of being.
I mean tell me I am wrong, when you read these words isn't there at least some small part of you that feels inadequate, that wishes you WERE strong and courageous?
I mean come on let's drop the churchy pretense, most of us are not very strong in our faith, we don't really read out Bibles like we should, we don't pray like we should. Many of us would be uncomfortable with the idea of praying for really sick people. I mean may we should pray in group - but to pray one on one for someone who is dying??? What if nothing happens?
Most of us are scared. We don't know what is going to happen anymore - we don't know if war might break out, what if a new variant of Covid comes out. We don't know if we trust our election system and the political climate has never been so divided like it is today. So many of us are scared. If we are honest - we don't feel very courageous lately.
I would be willing to bet that if I could get you to open and talk and really share what you are dealing with these days - most us would not describe ourselves as Strong & Courageous.
THE COMMAND TO BE STRONG AND COURAGEOUS
The command to be strong and courageous can only be given to the weak and afraid.
Think about this - Joshua is one of the strongest bravest people in the Bible. I mean there are a lot of courageous people in the Bible. Lots of people who faced difficult situations- but Joshua is right up there with the bravest of the brave. But think about this - God said to Joshua - be strong and courageous. 3 times in the first 9 verses - 3 TIMES.
• Be strong and courageous
• Be strong and courageous
• Be strong and courageous
He didn't say it is good thing you are strong and courageous he said Be strong and courageous.
An apple needs a seed and soil… with those things and water and time - you get apples. Right?
The Word of God is the seed and you are the soil.
Did you know that? YOU ARE SOIL! WE are Soil!
Soil is dirty and muddy and messy - come on - does that sound like anyone you know? Solid seems useless - until there is a seed.
But once there is a seed in that soil - magic happens. The desert turns into a forest.
Listen, this idea that word of God is a seed and we are soil that people are soil is not my idea - it is in the Bible. Jesus said it! Look at
Luke 8:11 (ESV): "The seed is the word of God."
Then look at verse 12…
Luke 8:12 ESV
The ones along the path are those who have heard; then the devil comes and takes away the word from their hearts, so that they may not believe and be saved.
All seed needs a soil. Without soil seeds never become what they are meant to be.
John 12:24 ESV
Truly, truly, I say to you, unless a grain of wheat falls into the earth and dies, it remains alone; but if it dies, it bears much fruit.
I want you to see this today.
Weakness is the soil
Weakness is the soil that strength grows in
Fear is the soil that courage grows in.
when you feel weakness - that is your opportunity to get stronger
when you feel fear that is when courage can work in your life.
2 Corinthians 12:9–10 ESV
But he said to me, "My grace is sufficient for you, for my power is made perfect in weakness." Therefore I will boast all the more gladly of my weaknesses, so that the power of Christ may rest upon me. For the sake of Christ, then, I am content with weaknesses, insults, hardships, persecutions, and calamities. For when I am weak, then I am strong.
Do you see it?
This command to Joshua and the children of Israel was not an affirmation what they already were - it was command to become what they were not.
Sure Joshua had the courage to go spy out the land - but now Moses was dead and he had to lead the people. Not just to spy but to take the land.
What are you facing today? Where is your soil?
• What if could drop every pretense and facade, where are you afraid?
• Where are you really scared?
• Where are you weak?
• That is the soil is the soil God wants to use to grow some courage and to grow some strength.
Think about it - courage is not the absence of fear. It is the choice to act in spite of fear.
A toddler does not know fear. It is not courage when child touches hot things or runs into the street. It is foolishness. Never mistake foolishness for courage.
The soil alone will not produce anything. If all I have is soil but no apple seed - there are no apples in my future. You got to have the seed.
Acknowledging your fears and weaknesses will not be enough. You have plant the Word of God into those fears, in those weaknesses, in that uncertainty, into that situation…
And is that not exactly what God told Joshua? Right in the middle of telling him go and do what you have never done before - right in the middle of telling him to be strong on courageous The Lord says…
Joshua 1:8 ESV
This Book of the Law shall not depart from your mouth, but you shall meditate on it day and night, so that you may be careful to do according to all that is written in it. For then you will make your way prosperous, and then you will have good success.
That is the seed - we are the soil.
Without the the word of God in your life - your mess will stay a mess. Your dirt will stay dirty…
Have you ever seen someone put carpet on top of dirt? It looks good for a little while - but sooner or later the dirt comes through.